Thanks for taking interest in my photographs. All of the images on this site are available as fine art prints or publication uses. Each image is processed to bring out optimal detail and color. Then, images are printed on Fuji Professional Digital Crystal Archive Paper. Fine art prints are available matted or unmatted in a variety of sizes. Please note that due to the aspect ratio of my Canon dSLRs, standard sizes such as 8x10 and 11x14 are unavailable. To fit my prints into a standard frame, I offer matting options to fit into the next frame size up. (eg. 8x12 matted to fit into an 11x14 frame) If you have any questions, contact me at, vito@vitoparatore.com.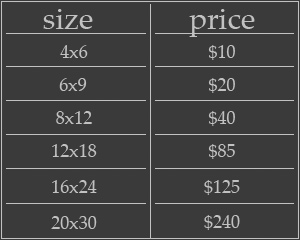 Shipping not included in price.
For information on matting options or specific sizes you are interested in, contact me using the email above.